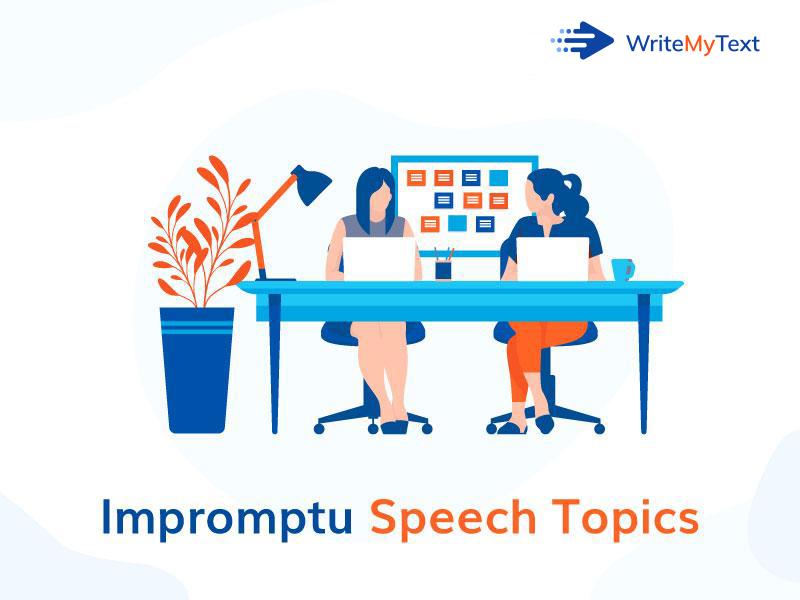 Impromptu Speech Creative Topics
When given the assignment to deliver an impromptu speech, many students wonder how to cope with it effectively. Normally, when people need to deliver a speech in front of the audience, they want to have as much time for preparation as possible. Some of them may even work on the speech or presentation for as long as three weeks. Indeed, such assignments demand much time, energy, and effort if you want to achieve a successful result. However, what to do if you are to present an impromptu speech? This assignment is totally opposite to the regular speech task since the very word impromptu denotes that no preparation is predetermined.
One of the cases, when one can be asked to give an impromptu presentation, is when one has to urgently replace the speaker who was planned to come to some event. Or one should urgently replace the person who did not manage to prepare well or who just had some emergency right before speaking. Another example of impromptu speaking is when one has to deliver a speech during some celebration or graduation party.
When it comes to some specific speech on a concrete topic, surely success comes to those who can come up with an appealing topic and structure the speech in a logical and coherent way. When it comes to the mode of organization of impromptu speaking, be sure that it should consist of such elements as your own personal viewpoint on the topic, a related story to your topic, and a successful conclusion that also puts forward a call to action.
When it comes to public speaking, it is important for one to prepare mentally if one wants to succeed with the speech. For example, one may take notes, gather some materials, and practice speaking on a daily basis (in front of the mirror as an example). For some people, it is really helpful to practice speaking in front of some friends or relatives and hear feedback from them. They can definitely tell you at least whether the topic is interesting and whether it sounds appealing since if it is engaging for at least 5% of the audience, it may interest a broader audience as well.
A significant thing to consider when delivering a speech is that you should not force any subject or concept. In some cases, you should be persuasive but you should definitely be respectful and maintain borders when speaking about some controversial or sensitive topics. The most helpful rule here is to maintain the golden balance and keep the audience engaged in what message you are conveying. Specifically, you need to provide vivid examples and illustrations, use figurative language, such as metaphors, epithets, and comparisons, and apply other techniques.
When you have to deal with improvised speaking, be sure that you should not provide mere facts or try to sound too serious. Try to communicate the message across in simple words that are easily comprehensible to the audience. It is also recommended to use some good-hearted jokes. At the moment where you seem to be stuck, do not rush and let that silence or pause naturally occur. More so, keep in mind that you are not the only one person who finds impromptu speech a stressful experience.
A Comprehensive List of Impromptu Speech Topics
Why is it important to have good manners in the society?
Should tax be imposed on people willing to adopt children from abroad?
Are standardized tests a good method of evaluating students' knowledge and skills acquired in a specific subject?
Should girls be allowed to participate in football competition in high school?
Should the fast food menu have a concise indication of the total number of calories?
The current system of taxes is not favorable for the middle class.
Is it right that churches do not pay taxes?
Is motherhood deeply valued in the modern society?
What is so great about being young?
Why are teenagers prone to delinquent behavior?
Why is it so easy for teenagers to turn to addictive behaviors?
Are self-driven cars the benefit of the future?
Why is it beneficial to have a good sense of humor?
Why is it important for all citizens to participate in the country's voting processes?
Are there any cases when it is OK to lie?
What do you value more: intelligence or wisdom? Why?
What job position would be the best one for you?
The most memorable event of your life.
The most successful or inspiring person you look up to.
What is your biggest concern for the future?
What three major changes would you implement if you ruled the world?
What is the most challenging thing you have ever done?
Name three to five things that you do well and discuss whether you derive pleasure from all of them.
How to prevent financial fraud?
What is the role of social media in the area of marketing products?
Effective e-marketing solutions.
How to start your own blog?
How to ensure that your job application process is successful?
How to succeed in a job interview?
What steps one should take if he/ she wants to buy a car?
What do you think is the biggest effect of the Internet?
If you were in charge of school meals, what would you change?
Would it be OK if all people said what they really feel or think to others?
Your favorite cartoon character and how has he/ she/ it influenced you now?
How could you personally impress your parents? If you have already impressed them somehow, what was it?
What is the ideal pet for you?
Your daily routine to becoming successful.
Traditions of holiday celebration (on the example of Christmas or Easter).
Is real wealth measured by possessions?
Do you agree that it is natural and OK for a person to make mistakes?
What is spiritual development for you?
How would you explain whether a person has a grown mindset or not?
What is the most important lesson that you have derived in your life?
How far do you agree that intelligence is not all that is needed in life?
Do you agree that colors have an impact on the way people feel?
Children learn not from what they hear but from what they observe. Do you agree?
Poverty is not a way of living – it is a state of mind. Do you agree?
How would you define an average person?
What is the most valued human quality for you?
Who has posed the most significance impact in your life?
Keep in mind that these are not all topics that you could use for your impromptu speaking. You can always search for more ideas online or ask professional custom writers for help.