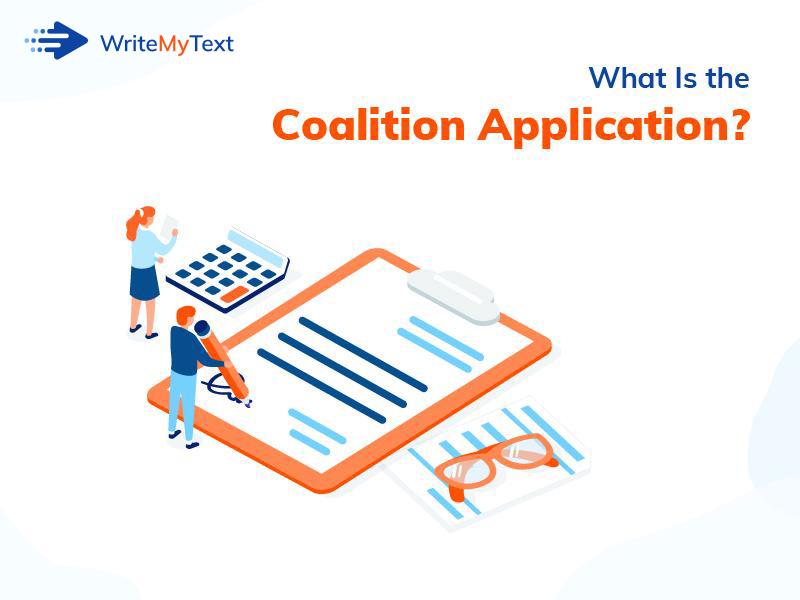 Coalition Application Essay Writing: Expert Hints
What does it mean to write a coalition application essay? First of all, it means using the Coalition Application platform. It is an online database, a platform that was created specifically to support the system of higher education. It is currently used by more than 140 schools. It has a lot of shared features with Common Application, but it is still different. Read our blog here to learn more about writing coalition application papers.
The Coalition Application platform has been in place since 2016. It was launched with the purpose of making it easier for students of minority backgrounds to apply to college. That does not mean that only minority students can use the platform. It is widely available and accessible for anyone who wants to apply to college.
Coalition Application Essay Writing – Making a Decision
As a student who is seeking application opportunities, you are strongly encouraged to use the advantages of the MyCoalition application. It is a piece of software designed to help students manage their college applications. It is like a digital work space for any learner who has plans to go to college and wants to organize his or her work properly. For example, once you become a 9th-grader, you can upload your papers and certificates to the MyCoalition platform. By the time you are ready to apply, you will have all documents and proofs needed to support your application.
With MyCoalition, you will enjoy the following advantages:
A personal locker, which is actually a personal space where you can keep your work as you progress toward graduation. For example, you can save your essays, photographs, and evidence of your academic accomplishments there. You decide which materials are best suited to be kept in your locker.
A space for collaboration: here, you can invite anyone to share the benefits of using MyCoalition with you. What if you need to review and revise your application? What if you want someone to take a look at your application? You can do it with this wonderful collaborative feature!
A counselor, which functions as an online library. You can use it to locate valuable materials. You can also communicate with a live counselor. Why not get expert advice as you are struggling to improve your test results? You can do it here!
An application, where you will transform your materials into a coherent application portfolio and use it to apply to college.
Writing a Coalition Application Essay
The Coalition Application gives every student an opportunity to write a great paper. Remember that an application essay is a part and parcel of any application portfolio, no matter if you choose college, university, or any other facility to continue your education.
You may simply opt for completing a coalition application essay. In this case, you will be free to choose among several coalition application essay prompts. It can be five or seven prompts, depending on the conditions of your application. They cover several broad topics, so you are welcome to choose what you believe you can do professionally. For example, as of 2018-19, the Coalition Application covered the following topics for essay prompts:
Share some unique, interesting story that happened to you. Highlight the key features of your experience and discuss the main lesson you have learned from it.
Describe a situation when you were able to contribute to the lives of other people and change them to the better. What were the pros and cons of your involvement?
Can you remember any case when you struggle to accept a belief that contradicted your worldview? How did your beliefs change?
You are a teenager. What is the most difficult part of being a young man (woman)? What is the key advice you would share with a younger friend to benefit from adolescence?
Write and submit an essay on any topic. Here, you are expected to discuss and evaluate something that is important and meaningful to you.
Applying for College – Costs and Benefits
You do not need to pay anything for accessing and using MyCoalition. You are welcome to use the Locker, the MyCoalition Counselor and other features completely for free. However, please remember that you must pay a fee to apply to college. You cannot escape this fee by simply using MyCoalition. Of course, there are exceptions, but you are to review the terms and conditions of application from each selected college. For example, an application fee can be waived for applicants who participate in free lunch programs.
Coalition Application Essay Examples – Straight to the Point
The basic intent of the Coalition platform is to make the process of applying to college easier and more affordable to underrepresented students. This is a popular misconception – it is not simply for minority students; it is for everyone who needs help compiling a perfect, outstanding college application portfolio. Of course, given the vulnerable position of minority groups, Coalition is a source of considerable support for these students. Yet, it can be used by any college applicant, and it is equally useful for everyone, regardless of their status.
You may encounter colleges and schools that will accept your application only if you do it via the Coalition platform. For instance, you may need to join the platform if you are applying to University of Washington or the University of Florida. In any other situation, it is up to you whether to use the Coalition application. If you think that it can make the whole process more convenient and easier for you, do not hesitate to try it. At the same time, you may want to stay with the Common Application, at least because it is more popular among colleges and more sophisticated.
Using the Coalition Application to Apply to College
Schools that join the Coalition also demonstrate the following features:
Accessibility – every member of the Coalition platform (colleges and schools) must demonstrate evidence of commitment to equality, equity, and active involvement of minority students in its academic processes.
Affordability – every member of the Coalition platform must prove that financial aid is provided to needy students to secure their full involvement in studies.
Excellence – every member of the Coalition community must show evidence of having at least 50 percent graduation for minority students.
Use the Coalition application wisely, and you will not have any difficulties in your academic life!